Aaron Hernandez Innocent Of All Charges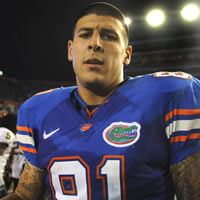 Yes, you read that right. Early Wednesday morning, Aaron Hernandez, former TE for the New England Patriots, was found hanging in his single cell at Souza-Baranowski Correctional Center. Although measures were taken to attempt resuscitation, Hernandez was pronounced dead at 4:07 am, EST. Hernandez had been serving a life sentence for his role in the murder of Odin L. Lloyd and was in the process of appealing the conviction.
While you may think that a suicide during such an appeal is kind of indicative of one's guilt, in the state of Massachusetts, it means you head to your grave an innocent person. A little-known addendum called "Abatement ab initio" states that if you die after a conviction but prior to your appeal process playing out, it's as if you'd never even been arrested.
It's a centuries-old practice that finds its basis in the innocent until proven guilty doctrine. Because Hernandez was unable to finish his appeals process, the state was not able to fully prove that he had committed a crime, despite getting a conviction. Justice isn't fully served until an appeals process plays out, at least in the state of Massachusetts. So Aaron Hernandez will go down in history as an innocent man, according to the state of Massachusetts.
"This is a shocking and sad end to a very tragic series of events that has negatively impacted a number of families," stated the prosecutor from the Lloyd case, Bristol County District Attorney Thomas Quinn. Shocking indeed, when you take into account that Hernandez had just been acquitted in the double-homicide case that had been tacked onto his 2013 arrest.
While some are surprised by this news, some people don't believe the Hernandez had it in him to kill himself, namely his former agent Brian Murphy. "Absolutely no chance he took his own life. Chico was not a saint, but my family and I loved him and he would never take his own life." The agent tweeted upon hearing the news. Hernandez's lawyer, Jose Baez, also believes that there's something more to the story, stating that he will be launching his own investigation into the matter.
"There were no conversations or correspondences from Aaron to his family…that would have indicated anything like this was possible," Baez said in a statement on this issue. "The Baez law firm will conduct its own examination into this tragic event."
Admittedly, the prison where Hernandez was serving out his life term is known for having problems. At least one known instance of murder within the prison was reported in 2003. The maximum security establishment saw the death of John J. Geoghan after he was strangled by a fellow inmate. The prison doesn't seem to have gotten any better with time, as there was a reported disturbance earlier this year when prisoners rioted and damaged prison property, including their computer systems. The executive director of Prisoners' Legal Services, Leslie Walker, said "we're very concerned," when asked about the Souza-Baranowski Correctional Center.
Facts are still coming to light as the case is being investigated by state police. Already, family members are asking themselves how someone so large could have hanged themselves in so small a cell. Some reports say there was no suicide note, while others say that he was found with "John 3:16" written in blood on his forehead. But if he hanged himself, why was there blood? Are these just questions being asked by saddened family members who don't want to come to terms with the suicide of their loved one? Or is there something more sinister lurking behind what at first glance appears to be an apparent suicide?
Whether or not you believe that there is a darker truth behind this alleged suicide, there is another aspect to the case that no one is really looking at. Abatement ab initio means that you die an innocent person. That means that your estate is completely untouched by the state. It's as if you died naturally. A year before Aaron Hernandez was arrested for the murder of Odin Lloyd, He signed a $40 million extension with the Patriots. As an innocent man, Aaron Hernandez's family would still have a claim to his estate, that bonus, and everything else seized after his arrest. Former fiancé Shayanna Jenkins had a daughter with Hernandez, Avielle, now 4. Hernandez also has a brother, DJ.
Abatement ab initio has returned mountains of money in other high-profile cases. The largest in recent Massachusetts history would have to be the 2006 Kenneth L. lay case. The CEO of Enron had been convicted and was being sentenced for fraud when he died in the middle of his sentencing hearings from a heart attack. His estate retained the $44 million he had attained through fraud, despite the fact that it had been seized after his arrest. With this law in place, Hernandez's estate could be handed over to his brother, DJ, and his daughter, Avielle. Could this have been on his mind when he ended his life early Wednesday morning?
The Patriots organization has declined a request by MassachusettsGamblingSites.com for a comment on the matter.